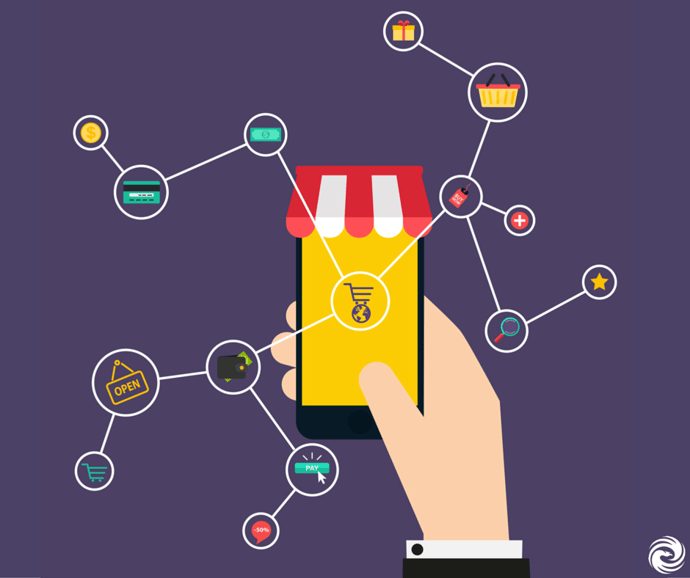 The online and mobile retail industry is growing in leaps and bounds, and as consumers are increasingly reliant on online and mobile shopping, their expectations for their shopping experience have also grown more stringent. A sub-par user experience can and will drive users to your competitors in droves, whereas a solid, well-thought-out UX strategy will ensure their loyalty.
With so much hinging on quality UX, more and more extensive research is being done to figure out exactly what customers want out of their digital retail experience. Out of those findings, here's the checklist of the ten most important features to incorporate into your retail site or app.
---
1. Finger-friendly interfaces with large, responsive typography
A full 30% of all online purchases are now made on mobile phones, so mobile UX should always be kept in mind during the design process. Content sliders may be convenient on a computer, but they're challenging to navigate on small devices. Text needs to also be large and well-spaced, both to up readability and so that users can always hit the link they're aiming for.
2. Effective search indexing
Make sure your search feature is as helpful as possible. Tools such as auto-correct and predictive text can make searching easier for the user and keep them on track towards making their purchase—exactly what both you and they want.
3. Clear and informative product pages
Never make your users hunt for the information they want. Everything should all be clearly listed on the product page, including price, stock availability, sizes and colors, shipping costs, and delivery information.
4. Large, high-quality images and videos
Visual information plays a key part in a user's decision to buy a product—consumers will want to see multiple images of a product, and the pictures themselves should be as large and high-quality as possible without slowing loading speed. Allow users to zoom in as well, and if you can, incorporate a compelling product video. This means more to a user than the most detailed of product descriptions.
5. Offline shopping aids
Assuming you have a brick-and-mortar, some customers may browse online, but wish to purchase in person. Your site or app needs to cater to them as well. Allow users to check and reserve stock at their preferred physical location. Barcode scanners that can be used when in the store are always a nice touch, as well.
6. Reviews and other user-generated content
Nothing does so much for both customer confidence and trust and retailer credibility as having user reviews clearly listed for your products. Encourage your customers to not only write reviews but post photos or engage in Q&A's. Better yet, aggregate review scores and implement systems to sort and filter reviews. The more information they have access to, the more secure people will feel in purchasing from you.
7. Easy-to-adjust shopping cart
Customers will frequently change their minds about the product they want, or make errors in what they add to their digital cart. When a user accidentally adds two of a product or the wrong size to the cart, they'll grow frustrated if they cannot easily adjust the contents of the cart. Users should also be able to save items and then retrieve them later or on other devices—many people are fine browsing merchandise on their phone, but prefer to move to a full computer to check out.
8. An efficient checkout process
Checkout is the greatest area of friction for most users. Poor UX can easily make the actual act of purchase seem overly difficult and complicated—and therefore not worth the time. Remove most of the main navigation during checkout, to keep things simple and prevent users from getting distracted, instead guiding them directly towards conversion.
Allow customers to use third-party payment options, as this both reduces the number of forms they have to fill out and increases their sense of security. Provide promotions or deals at checkout, or even add them automatically; again, not only do you want to make the process easier, you want to prevent users from leaving your site to look for deals, as they may or may not ever come back.
9. No registration requirement
Many sites and apps require that users register in order to make a purchase. This is a massive mistake. Registration slows down shoppers and is difficult on mobile devices. Furthermore, consumers don't like being asked to provide personal information without a clear incentive. If asked to create an account before checking out, many if not most users will simply abandon ship. Instead, allow guest checkout and then ask users if they'd like to create an account afterwards, when they've gotten what they wanted and have already entered most of the necessary information.
10. Detailed summary after purchase
Be sure to provide a full summary to customers after a purchase, as they will typically want to double-check their order for errors. At this point, you should also give clear instructions on how customers can correct any mistakes they see in case they need to do so.
---
A huge percentage of retailers now operate either partially or entirely through mobile and online. The only way to stand out from the crowd is to make your digital UX as pleasant and painless as possible. Your customers will thank you for it by coming back to you the next time they're in need.