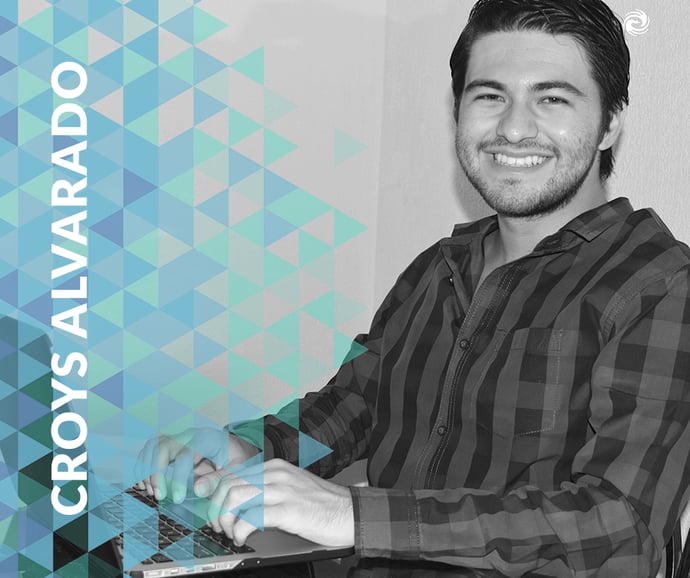 Croys Alvarado: Software Engineer

Renovatio is always excited to showcase our team members every month. This month highlights Croys Alvarado, a software engineer working out of Renovatio's Costa Rican office. Croys offers insight to life as a software engineer.
Meet Croys Alvarado:
"If you never try, you'll never know."
Croys keeps this message in his mind and always tries to apply it in his life. For Croys, software engineers must not fear failure. If you have an idea that you never developed because you feared failure, you will never know what could have happened with an amazing idea. "I know we have many fears but go ahead, try new things, and always trust in yourself."
Can you describe a typical work day?
"A typical work day for me starts at7:00 am, with some exercise (with Shaun T) then around7:30 amI eat my breakfast (my favorite meal of the day). When the clock strikes8 o'clockI turn on my computer, check my inbox, I prepare myself in a programmer mood, select the right playlist and then I start working. Then I take my lunch to recharge batteries to continue. After lunch I usually try to find some chocolates as dessert, then I select a new playlist (only if it is necessary), maybe read, and then get back to work."
How did you get involved in software engineering?
"In college when I was in junior school we had to choose an elective, and in all the classes I could choose I really liked the one called "Introduction to Programming". I had no idea what it was but it sounded interesting, so I enrolled. I loved it, so much so that my teacher became a great friend, which helped me a lot. We programmed in 'Scheme', it is a cool programming language because the syntax is very easy and the things that you can develop are so powerful. Then I started thinking about
a system engineer career because I always liked the new technology trend. This course was awesome and when I was in the last year of college I had my own website.
I don't know if it was fate but the university seemed to be making sure I was on the correct career path when the same friend who taught me in school also taught one of my last courses. This course was one of the most difficult ones but I learned a lot. All of these things helped me get into the software engineering world."
What are some important traits that software engineers should have?
Confidence. Trust in yourself is one of the most important traits that you will need. Confidence helps you feel free to explain your point of views, but always respecting the others point of view.

Eager to learn. You're always going to learn new things. Technology changes so fast that you have to be updated all the time.

Hard worker. You could have results or excuses, not both. Work hard and you'll see the results. I prefer a software engineer who knows their mistake and goes back to fix the issue and learns from that situation rather than another who wastes their time with excuses.

Attitude. For me this is the most important trait, having an excellent attitude helps you to deal with the problem/situations in a better way. When I say attitude, I mean dedication too. For me you could have the knowledge and work hard but it doesn't matter if you don't have an excellent attitude.
How would you describe the Renovatio team?
"Working in a team like this one is a privilege because you feel confident, like in a family. All of them are so nice, so funny, so talented, hard workers and that makes me happy to work with them. This team is so united, each member is willing to help you if needed because this is all about a team."
What things have you learned so far at Renovatio that you would tell a new team member?
"You're going to learn many things here so prepare yourself. Working here you not only grow in a technical way but you also grow in a personal way, which for me this is awesome. I learned how to work in a team regardless of distance because you're always going to have support from any developer. Also I learned the level of responsibility that you have here: this is a great company, with great people, so you have to respond in the same way, making an excellent job."
If you could tell someone one thing they didn't know about your job, what would it be?
"It is a challenge. Every day is different. You have to explore your creativity and your innovative ability to accomplish your goal, which all of this is cool, because you grow so much in different ways. At the end, all of these sacrifices have their reward."
Hobbies and interesting facts about Croys:
I'm a happy person. Most of the time I'm smiling. I believe I'm too positive.
Soccer

Chillin with my friends.

Going to the beach, one of my favorite places to go.

I love to eat! Especially pizza.

I also love chocolates! Reese's specifically.