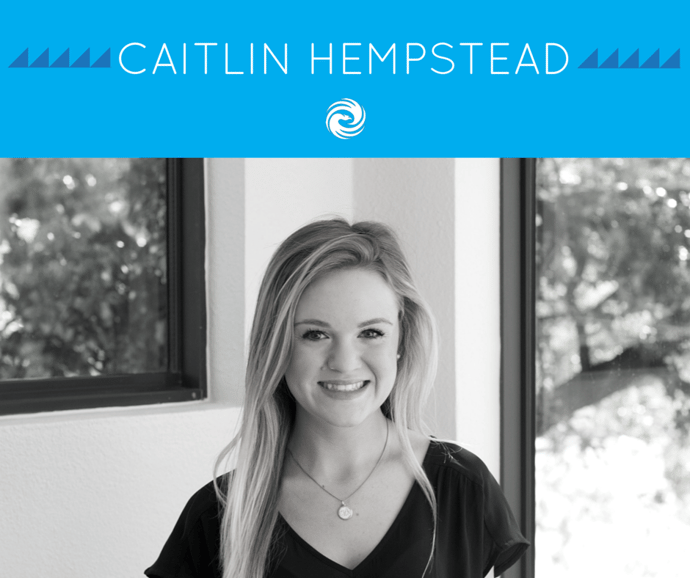 Caitlin Hempstead: Content Marketing Specialist
The Renovatio Cloud Solutions team is home to a host of talented and hard-working individuals, all of whom play a key role in allowing Renovatio to bring its custom apps to life. We always enjoy showcasing our team members, so this month we'd like to introduce you to Caitlin Hempstead, a content marketing specialist who works to spread education on and interest in high-tech business solutions.
Caitlin is a driven marketer with a passion for new opportunities to learn and explore. At Renovatio, she brings to the table both her creative talent and her boundless energy and enthusiasm.
Meet Caitlin Hempstead:
"Pleasure in the job puts perfection in the work."
What interests you most about marketing?
I enjoy marketing because it demands equal parts analytical and creative thought processes. I'm definitely not a math-minded person, but I am driven by facts, data, and research. It gives me my fix of confidence in what I know and can prove to be true. On the other hand, I like thinking outside the box. To me, marketing campaigns stand out most successfully from the noise when they're delivered in innovative ways. I have enjoyed exploring both the quantitative and inventive aspects of the field, and finding the balance that gives me the best results as a marketer.
What are some important traits for a marketer to have?
I'd have to say adaptability. The world will always need marketers, but the job description is constantly changing as new technologies and strategies are rolled out. Marketing today is nothing like marketing twenty years ago. In order for a marketer to be successful, they can't be stuck in their ways or unwilling to learn. Along with creativity and persistence, adaptability is requisite for marketers.
How would you describe working at Renovatio Cloud Solutions?
I have loved working at Renovatio because of the fun and engaging atmosphere. Though we are spread between Austin and Costa Rica, the team is a tight-knit group. Each team member has a unique personality, and I think everyone comes together and complements each other well. I always feel like I can share my ideas and opinions without fear of rejection because of how engaging and supportive everyone is at Renovatio.
What would you say is your most unusual hobby?
Crafting is my main hobby. I'm always looking for new ways to be creative and use my hands. If I had to pick my favorite project, it would have to be refurbishing old furniture. I love taking something old and turning it into a new piece that can pull a room together or stand out as a statement piece. Right now I'm working on stripping an old dresser I had laying around and staining it to match my desk. If all goes well, it'll go in my new apartment when I finish! Next up is an upholstered headboard.
What is your favorite place you've ever been?
I was lucky enough to live in Barcelona for six months last year, and I can safely say that the city has my heart! Everything about Barcelona is beautiful - from the rich history to the unique artwork and architecture. While I was there I had plenty of opportunities to travel, and I met some of the best people I know. I'll surely go back as soon as possible!